You are here: Home » Gem Riverside apartment for sale
GEM RIVERSIDE APARTMENT FOR SALE DISTRICT 2
Gem Riverside apartment is a city of flowers – a city of Europe as located in the middle of Saigon busy and bustling.
  – Commitment to accompany customers: BEFORE & AFTER sales
  – Commitment to Investment Support: LEASE & TRANSFER
  – Commitment to support BANK loan
Contact our sales department at 0919 46 2121 – 0919 94 2121 for the best support
⛳
Gem Riverside apartment
is located in the heart of District 2 and is surrounded by two sides of the river and between the large projects of Novaland in the South Rach Chiec residential area is expected to be one. prosperity of District 2 when Ho Chi Minh City is investing priority in the area with many projects and projects.
– 1km from the center of Thu Thiem.
– 3 km far from District 1 (go to Thu Thiem bridge).
– 7 km from District 7 (go to Phu My Bridge).
– 3km far from Binh Thanh district (going over Saigon bridge).
– Convenient transportation to the Eastern provinces through Long Thanh – Dau Giay expressway.
Gem Riverside apartment for sale with maximum space of 49m2 with spacious open space, master bedroom with large window facing out to receive fresh air. With a flexible designed area from 1 to 3 bedrooms and Penhouse apartments in the air, DuplexVilla is very suitable for customers when buying to live or invest.
Gem Riverside Apartment District 2 with a size of 6 blocks up to 35 floors is located along the river but the density of construction is only about 20%, this is really a great thing when the space left for the park and local amenities
➡ 1 bedroom apartment area of ​​49.14 m2
➡ 2 bedroom apartment area of ​​71-76-81-85 m2
➡ 3 bedroom apartment with area of ​​95 m2 or more
➡ DuplexVilla with area from 129 – 201 m2 (completed by the investor)
➡ Penhouse (airy villa) area of ​​107 – 151 m2 or more, garden and green parks (completed by the investor)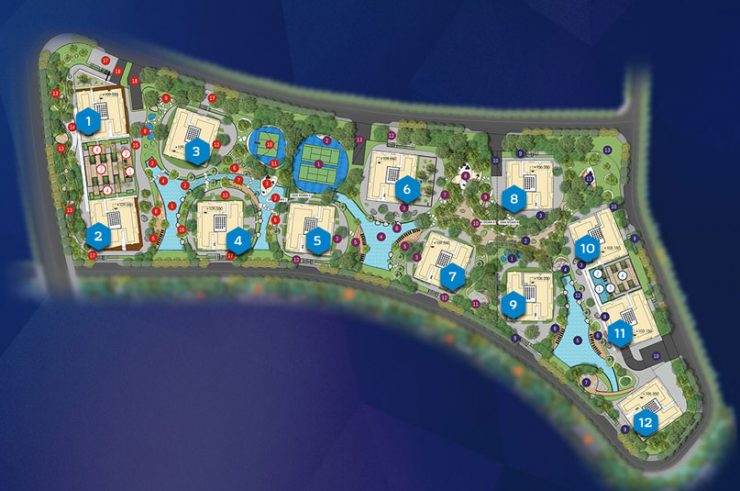 Gem Riverside apartments are sold like Ha Long Bay in the heart of the city.
Convergence of superior facilities compared to any apartment can be compared to: Luxury yachts, boating, 5 * business center brings a wonderful experience.
The luxury facilities when owning Gem Riverside apartment:
– Park area of ​​water trees up to 7ha,
– riverside jogging track,
– Sports area, children's play area,
– Standard Pool International Resort.
– Relaxing area: drinking tea, strolling …
– BBQ area, international school, and department of high-end commercial …
– To know more about the method of payment or sales policy from Green Land owner of Gem Riverside apartments please call Hotline: 0919462121 – 0933235111 for more consultation staff.
SEE MORE PROJECTS IN THE REGION:
Tag: Gem Riverside apartment for sale | Gem Riverside apartment for sale in District 2 | Apartment for sale at Gem Riverside | Apartment for sale in Gem Riverside | Gem Riverside Apartment District 2 | gem riverside apartment for sale district 2 | Gem Riverside Apartments for Sale in D2 | For Sale at Gem Riverside | Gem Riverside for sale | Gem Riverside price
GEM RIVERIDE APARTMENT SALE SOME INFORMATION: