You are here: Home » Verosa Park viila for sale
ANNOUNCEMENT PRICE OF 1 VEROSA PARK PROJECT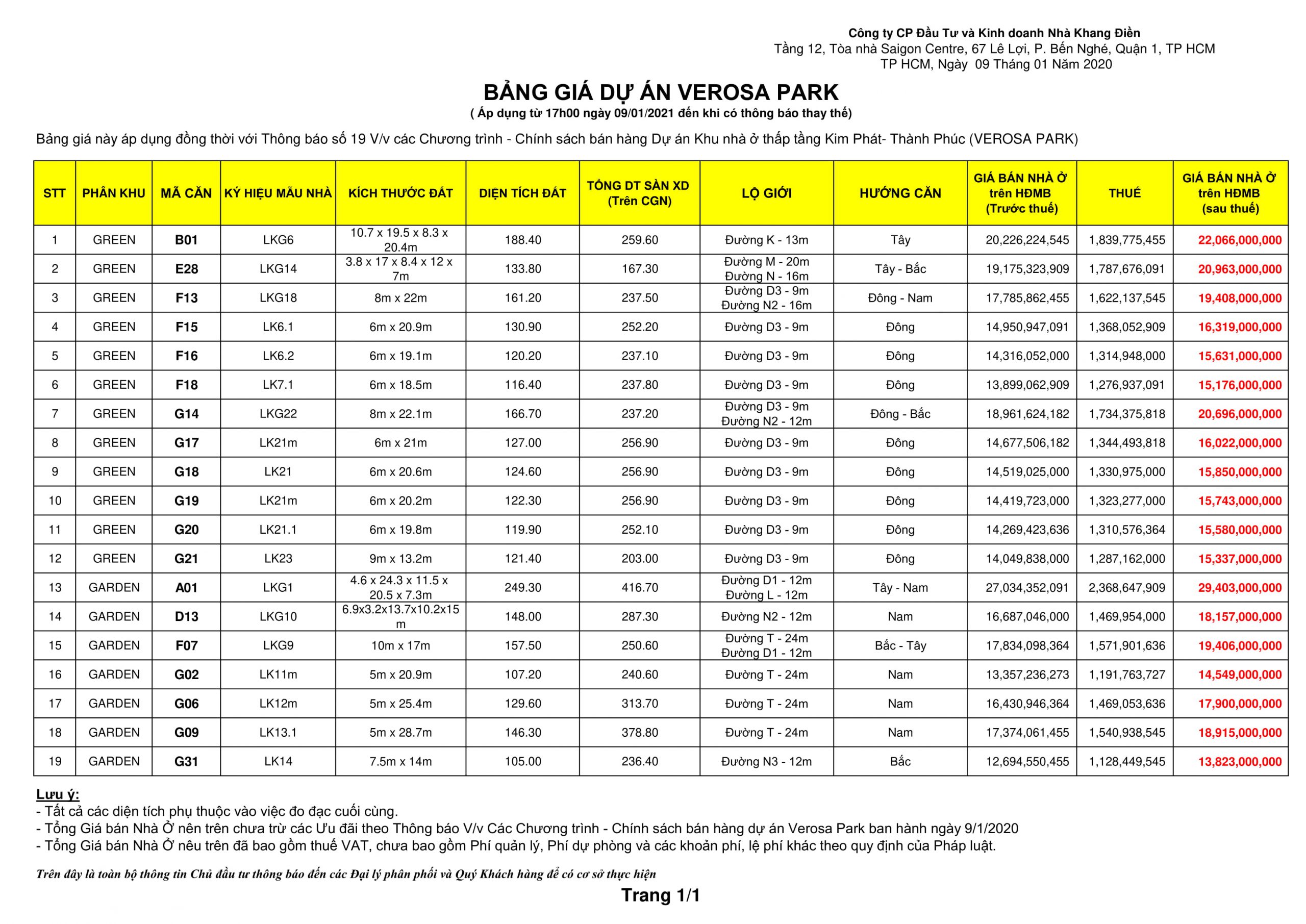 HOUSE FOR SALE VEROSA PARKDISTRICT 9
Selling villa / townhouse Verosa Park District 9 is a Khang Dien townhouse project with an area of ​​8.1ha total of 293 townhouses and 3 villas located at the intersection of Lien Phuong and Bung Ong Thoan Street, Phu Ward Huu, District 9.
Project name: Verosa Park.
Investor: Khang Dien Housing Investment and Trading Joint Stock Company.
Construction unit: Hoa Binh.
Management unit: CBRE.
Guarantee unit: Vietin Bank.
Project scale: 8ha.
Number of apartments: 300 units including townhouses + villas.
Construction specifications: 1 ground 2 floors. Backward 3m before, back to 2m.
View the Verosa Park project introduction file PDF file:

Giới Thiệu – Dự án VEROSA PARK- LH 0919462121
♦ Verosa Park townhouse design.
♦ Structure: 1 ground 2 floors.
♦ Backward space: 3 4.5m, with car garage.
♦ Back space: 2m.
♦ Area: 5x17m, 5x18m, 5x20m, 6x17m, 8x18m, 10x20m.
♦ Walls: Walls 10, each unit separately.
♦ Bancoon: There is a balcony for the front rooms of the house.
♦ Verosa Park villa design.
♦ Structure: 1 ground 2 floors.
♦ Backward space: 3 4.5m, with car garage.
♦ Back space: 2m.
♦ Back side hip: 2m. One side with duplex form and 2 sides with isolated form.
♦ Area: 8x18m, 8x20m, 10x20m. Average from 140m2 upwards.
♦ Walls: Walls 10 separately.
♦ Bancoon: There are balconies with rooms in front of the house, some have evenings on the side.
Hand over.
♦ Exterior finishing: Including paints, doors, windows, garage doors (if any), bancoon, lawn in the yard, garage posts (if any), fences.
♦ Rough inside: Inside the whole handover completely, no room partitions, rough stairs fixed.
More file PDF Layout:

Layout -VEROSA PARK KHANG ĐIỀN- LH 0919462121
>> More: Verosa Park Project
Electricity and water system:
Electricity and water systems are available to the ground floor of the house to facilitate the completion.
With an estimated selling price of VND7-8 billion / 515-square-meter townhouse, compared to existing secondary townhouses in the current range: VND 5.2-5.5 billion / unit, and regional land prices around 50 – 70 million / m2, the price of Verosa Park Khang Dien is completely acceptable when located in a closed security compound and full of utility services.
When buying Verosa Park project, customers do not have to pay once, but will be divided into several installments like Khang Dien townhouse products have been deployed before: Sign a 30% sales contract, until receiving the house only 70% new payment.
In addition, the bank will support loans from the bank with attractive interest rate packages: 0% interest rate support until the house is received.
payment schedule
✤ HOTLINE: 0919.94.2121 – 0919.46.2121